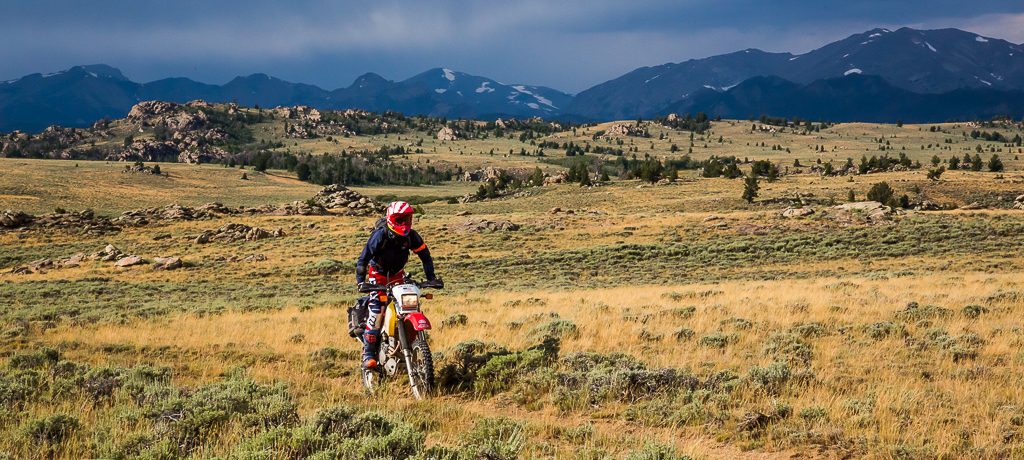 Escorts and vehicle
What is the role of the escort?
The two riders traveling with the group are there to help, but they are not guides. Therefore, they are not responsible for you. They are engaged in the adventure with you and will provide assistance and advice. Even if it's safer to ride with the group, you always have the opportunity to ride with a friend at your own pace, or to take other roads (see GPS navigation). The escort can advise the group on the choice of routes, help riders to manage their effort according to the profile of the stage. In case of a mechanical problem, like a flat tire, they provide the tools and help you fix it. They also have a satellite phone to communicate with the support vehicle and possibly with rescue. They pay gasoline when refuelling, know the best places to eat, and ultimately help you having a trip with no hassle.
What is the purpose of the support vehicle?
The assistance truck and its trailer will carry your camping gear, your bag of clothes, as well as food for the group, spare tires… In extreme cases, it may possibly serve as a rescue vehicle but it's not his first vocation, as it will often follow a very different route than the motorcycles.
How much luggage can I take?
A large bag with motorcycle gear, your toiletry bag and spare clothes should be enough. You can definitively travel light, as you will be dressed in bike gear almost all the time! You must add a sleeping bag for camping nights. We will be a group of 8 riders - including the two escort riders - and we have to load the bags for everyone!
Accommodation in motel
Can we choose our room-partner?
Except for people who already know each other, it seems that changing room-partner every night is a good solution. This allows to know each other better and should make sharing rooms more fun.
Have the rooms got free-Wifi?
There is Wifi in all the motels in the USA. But don't expect it to be fast and reliable. This should, however, allow you to check and send e-mails, but not necessarily to start a Skype or FaceTime video chat… This is the real adventure!
What kind of food will be offered?
In town, we'll eat in local restaurants. The food is always nourishing, quite different from that we found in Europe, but varied enough to accommodate everyone. From burgers to omelets or vegetarian salads, you'll find everything… Drinks are not included in the package. During the day ride, you'll have snacks to put in the bags of your bike (Natti Bar, dried fruit and cereal bars).
Accommodation in camping
Should I bring my tent?
We have individual tents for every one. They will be in the trailer. you'll have to set them up and to take them down, which is pretty easy. With the help of someone, it takes little over 2 minutes.
Should I bring my sleeping bag?
Sleeping bags are a more personal item than a tent and we prefer that everyone brings a sleeping bag that suits him, both in terms of size or temperature. The night temperatures will be between 8 °C and 20 °C. On the other hand, we will provide individual inflatable mattresses for everyone.
Will we have showers?
Depending on the campsites, we can have hot showers. But most of the time, you will have to take a cold shower, or go to the river or use solar showers. We alternate campsite and motel often enough so you can even skip the shower for one night if you don't feel taking a cold one.
What will I eat in camping?
You will have a pretty basic but nourishing and warm meal, cooked on-site. Count on a main course based on pasta or rice, followed by dessert with fruits and treats like cookies. In the morning, breakfast' with bread, jam, Nutella and fruits and sometimes eggs and bacon. Fruit juice and coffee will also be available.
Motorcycles rental
What is the minimum age to rent the XR?
The rider has to be AT LEAST 21 years old and have his motocycle driving license since at least one year.
Can I have another motorcycle?
Sold in the USA since 1993, the mythical XR is perfectly adapted to the American trails. The XR650Ls we propose are 2018 models prepared for the ride (more info here). These bikes have the best reliability record on the market. They have sufficient but never excessive power, suspensions that swallow everything and good brakes. The XR is lighter than a big adventure dual sport bike like the Africa Twin, which would be unable to pass technical or muddy areas. It is also much more enduring and comfortable than a light enduro type CRF-X. A quick look at a modern enduro maintenance manual show that modern liquid cooled racing engines won't go through this raid without requiring a big mechanical maintenance. To resume, the XR is THE ideal bike to ride in the wide-open spaces of the American West.
How much costs the deposit?
You'll be refunded from the deposit if the motorcycle has no damaged parts. If you fall, the estimated costs of repair will be deducted from the deposit. The deposit amount is $1,000, which should be enough with this really reliable motorcycle. If you don't break anything, you'll have 100% of you deposit refunded.
I'm less than 6ft, can we lower down the bike?
The XR is quite high and it may actually be a problem for riders shorter than 6ft (1,80m). We will adapt the suspension for those interested by installing a lowering link, which demeans the rear shock, and by raising both fork tubes accordingly. This makes the bike easier to handle at low speed, but be aware that the ground clearance will be slightly reduced.
Mechanical maintenance
Who is responsible for maintenance?
Each rider is responsible for daily maintenance. There is nothing difficult to do. Each morning, after warming up the bike on the stand for 5 minutes, you must check the oil level and possibly add some. This is done very simply, like on a car. The escort riders are here to help you adjust the level. While the engine warms up, you can also check the chain tension, put a little bit of lube oil and check the tire pressure. That's it!
What happens if I have a flat tire?
In case of puncture in the trails, the rider himself will need to fix it. If the incident occurs while you're riding with the escort, they will help you. If you're riding away from the group, you'll have to do it yourself. Everyone will carry heavy duty tubes in their bags, but the escorts will have the tools. At the end of the stage, or in the morning if a tire is flat, we use a stand to make the operation easier. Here again, the rider will be in charge, but helped by others.
If something breaks, where to find parts?
You will find spare parts in the trailer: handlebars, handguards, levers, footpegs, spark plugs, bulbs, and of course tires. All repairs should be made during the evening at the bivouac or early in the morning in order to avoid a delayed start. The stages are long and nobody wants to finish late in the night... Of course, there is always someone to assist you during the repair.
Rider equipment
What to bring?
As the raid takes place during summer, it's wise to anticipate high temperatures. Ventilated motocross gear will be OK most of the time. Some days, more waterproof and warm enduro clothing will be better. This allows to alternate gear according to the conditions and to wash at least one outfit during the journey. A rain suit should also find place in your bags. A motocross helmet will be perfect, and warm gloves might be useful in case of rain.… Two pairs of goggles seem to be a minimum, one with a smoke screen and one with a clear screen. Bringing tear-off is a good idea. Last, but not least, you may want to bring enduro boots instead of rigid motocross boots in order to be able to walk and have comfort on those long stages.
Can I rent gear?
We don't rent outfits, but we can buy it for you in the USA before your arrival. According to the euro/dollar rate, this can be advantageous.
What about the weather?
The raid takes place during summer and it seems logical to expect to ride with the sun. Even if this will be like that most of the time, the weather in the mountains will not always be friendly! The New Mexico state height is 1000 meters average, then we go up to over 4000 meters in Colorado and the rest of the trip is done at an average of 2,500 meters. Thunderstorms are very common, especially late in the day and it can be cold if we ride in the rain or at night. Hopefully, we should get away from the snow…
Riding skills
What are the riding skills required?
We ride on large dirt or gravel roads. The speed can be quite high and we have to keep cool heads! Riding standing up while keeping a smooth style is important as it allows the rider to see further away and the bike to be more stable. It's neither a rally nor an enduro race but the riding position is often similar. When the rain comes, we might encounter slippery muddy sections. You then have to know how to ride relaxed even with the wheels sliding and no traction. Finally, there may be areas with big rocks, and being able to ride at low speed in these technical sections is an asset. The raid is not about speed, but mostly about being versatile and smooth.
I've not ridden for a long time, is this a problem?
Not necessarily. If you knew how to ride, it will come back quickly. On the other hand, it may be useful to ride a few times before the raid, if possible on fast tracks, standing up. A little bit of single-track / technical trails can also be included in your training. No need to send big jumps on a motocross track, even if it can be fun and makes it for a great physical condition…
Where can I do a refresher training course?
Those who live in the South of the France can contact Yannick Marpinard, who teaches trials bikes and enduroand is several time finisher of extremes enduro like the RedBull Romaniac. We know him well and he will help you raising your riding skills in a minimum of time.
Physical condition
Do I have to be in great physical condition for this adventure?
It's hard to say, because it is a fairly subjective concept. Some young, fast and healthy riders will sometimes be tired before older, more experienced but slower riders. What counts is to be able to ride standing up, without forcing – it saves energy, and the bike is more stable this way. On the technical parts, if you know how to pass smoothly in the good lines, that will be fine. The ideal is to add some mountain biking or other endurance sports to your daily routine in the weeks before the raid.
Are the long days hard for the arms?
We're not on a MX track or on a Xtrem Enduro stage. Most of the time, you can ride without really holding the bar, the ride is often quite fast and casual. Somes sections are very twisty and slippery though, and in these circumstances, it can be more tense. When the sections are more technical (mud and elevation), we'll do frequent breaks to allow each rider – including the escort – to breathe and finish the day.
Are they many breaks during the day?
This raid is a dream for any photographer, but at the same time a real struggle (see questions about photography below). Everyone has to be reasonable and make breaks at regular intervals, so about every half hour. During refuelling, we can agree on longer breaks, while keeping in mind that stages are really long.
Can't we do the shorter stages?
It would be possible if we didn't the raid border to border, but even so, some of the areas we cross during this journey are so empty that finding supplies like gas required to ride on long distances. In the end, riding long days is the only way to do it, whatever it takes…
Photography
Will we have the time to take pictures?
The daily riding times have been calculated with relatively frequent but short stops. This trip is at once the paradise of the photographers and their worst nightmare, as it is impossible to take a picture of everything that needs to be. It is thus necessary to optimize the time of shooting during the stops. In a word, yes to the photos, but not the extended stops that would result in a considerable delay and night rides to end the stage.
What kind of camera should I consider?
In most cases, what attracts the eye while riding is the landscape. For this kind of pictures, a recent iPhone will do the job perfectly. If you are really passionate about photography, a small format camera with a zoom can be great. Note that it may suffer vibrations if packed in the saddle bags. It will be better to keep it in the backpack, even though it's slightly more dangerous for your back in case of a fall. A GoPro on the handlebar or your helmet may also take beautiful images without too much loss of time.
Can I ride at my own pace to stop and shoot pictures?
Yes because you're supposed to have a GPS (yours or the optional one we are providing). But riding alone is dangerous and shouldn't happening. In addition, we must ensure that photography does not take over the pleasure of riding. Once again, the days are long and it's better to avoid riding by night on tracks that we don't know. You therefore need to manage your time to avoid being in hazardous situations.
Can I post pictures on social networks?
Yes, of course… and doing so you'll make people jealous and raise your number of followers! But don't forget that you are here to enjoy the experience. The goal is to ride and enjoy it! Thinking too much about the "likes" or the lack of network can prevent to fully appreciate the days of riding. Therefore, a definite yes to social networks, but with some moderation…
Security
Is this raid dangerous?
Yes and no. Yes because you're on a dirtbike and you can always fall. Yes because the tracks are open to public traffic and therefore a pickup truck can appear in any corner. Yes, because a cow may decide to cross your path with no warning. But this raid is not that dangerous as you ride to finish the stage, not to do a lap time. Nobody will ever need to ride "beyond its limits".
What are the options if I'm tired?
Recovering during breaks, ride more relaxed – After two or three days, you get used to ride on slippery surfaces. Eat light and stay hydrated, go to bed early. But there's no way to skip a day. Carrying your bike is complicated and should be considered only in case of a rescue.
What happens in case of accident?
It depends on the severity of the accident. All participants having mandatory repatriation insurance, the only real difficulty will be to reach a town and get a flight home. When possible, return to town can be done by road. Otherwise, the pick-up truck can be used. If there's serious injuries, you will be picked up by helicopter. For those planing to ride away from the group, the SPOT option may be useful at this point!
GPS navigation
Do I need a GPS?
The GPS allows you to know at any moment where is the track, but also to ride at his own pace : Go ahead and open the track, stay a little behind to take photos, the GPS gives freedom… If you ride with the group, you can just follow and enjoy the scenery. In this case, it is not mandatory to use it. But don't forget that the escorts are not guides and that you need to be able to follow the trace if necessary."
Is it difficult to navigate?
It's really easy. Your GPS will be already set, and will show your position as well as the path to follow. When the arrow representing your bike is on track, you're good. When the arrow is not on track, just drive in the direction of this blue line to find the right path. It's that simple!
Can I bring my own GPS unit?
Yes, of course, but we provide a GPS Garmin 78 "Marine" waterproof fitted with a DATA port, stronger than a simple small USB port. You can see if your GPS can be mounted to the handlebar and if you can charge it. It is important to mention it on your registration form so that we can anticipate the mounting of your GPS. The simplest is still to have the same GPS that everyone and to opt for the 78.…
Can I use my phone?
To our knowledge, there's no application to see the path and a map on these long stages without using a network connection, but maybe do you know one? In this case, why not. But again, the cellular network is almost not present on the journey…
SPOT Option
What is a SPOT device?
The SPOT is a small device able to send your position in real time, using the satellite network and not a cellular network. Because of this, it will be connected even at the peak of the highest mountain. The position is updated without your intervention every 5 minutes. So you, your family and your friends will be able to follow your route on the map. In addition, two buttons allow you to send pre-recorded messages, even in the absence of any network. Finally, an SOS button allows you to trigger a search and rescue plan. This one is to use only in case of extreme situation !
Who can I send messages to?
Before starting the ride, we setup together your Spot so that you can customize messages and add up to 10 contacts. It can include e-mail addresses or phone numbers – who will then receive a SMS.
What happens when I press the S.O.S. button?
American rescue services are contacted and do their utmost to rescue you quickly. In the remote areas that we are going through, this may include the use of a helicopter. The costs of rescue are covered up to $100 000 in additional coverage to your own insurance. This button should only be activated in cases of extreme danger, not for a minor injury.
Application
When will I know if I am part of the trip?
The number of places is extremely limited due to the specifics of this trip. This is once again an adventure, where anything can happen ! As soon as 6 people are selected for one of the two trips, registration is closed. If one of the candidates withdraws or cannot pay the requested amount, his place will be offered to following candidates, in order of arrival of requests. Those unable to participate due to lack of space will not be forgotten, however, we will give them priority for the next year !
How are the groups determined?
The groups will be made according to the order of reception of the forms, and trying to group pilots based on their expectations. The level may be different as it's possible to make two groups of 3 on some sections of the trip.
Can I come with a group of friends?
Yes, but everyone needs to send his application. Be sure to specify in the form that you plan to ride with your buddies, this will help us to make the group without forgetting anyone!
When will I know who I'm going to ride with?
As soon as the group is formed and everyone has paid a minimum of 40% deposit, we will send a summary to each of the participants with the contact details for each rider – unless otherwise stated. This will allow those who wish to get to know each other, or even to ride together to be ready!
Rates
How do I pay for the trip?
The selected riders will receive the banking information for the payment. The registration involves the payment of a deposit of 40% of the total amount and the remaining balance must be paid, without further reminder from us, no later than MAY 15th, 2018. In case of no-payment within the time prescribed, XR Adventures and Larivière Voyages reserve the right to cancel the trip. For American riders, the price will be $ 7,530.
Once I've paid, what's happening ?
We reserve your spot upon receipt of your validation and payment of the deposit. A final response will be made within 48 hours (on business days and excluding weekends, public holidays). If the benefits were not available, the deposit will be refunded without delay.
Can I cancel at the last moment?
Any cancellation and/or modification intervening between the registration and May 15th, 2018 results in a cancellation fee of 40% of the total amount.
Any cancellation and/or modification after May 15th, 2018, or any no-show on the day of departure will incur a cancellation fee equivalent to the total amount of the trip, whatever the reason of the cancellation. This is the reason why it is possible to take a cancellation insurance if you are traveling with Larivière Voyages.
Enter the U.S.A, the paperwork
What is the paperwork for entering the United States?
Each participant must be in possession of a biometric passport with an electronic chip and still valid 6 months after your date of return and the ESTA (entry permit on the territory of the United States). For the ESTA, you will need to complete an online application on the website : Esta.cbp.dhs.gov (a maximum of 72 hours prior to departure) – this is mandatory. All the tourists have now to pay a fee of $14 per person to enter the US territory. This fee must be paid online (by credit card) to allow the validation of the ESTA. This permission (which you must keep a copy in your passport) is valid for 2 years (if you do not change passports in the meantime).
What do I need to know for the flight?
The first thing to know is that for the summer, the ticket prices may increase a lot. You can find round tickets with a stop at around 1,500 €. We recommend that you book your flight as soon as possible. As regards the flight itself, there is nothing special about it, except that your bag should not exceed 23 kgs and that the journey is very long. Expect a total travelling time between 15 and 18 hours depending on the duration of the stops. The 8-hour time difference with France will tire you on the first few days, so don't hesitate to sleep maximum during the flight, even if it is not easy.
Insurance
I live in France, Belgium or Switzerland and will travel with Travel Larivière. What insurance is needed?
Larivière Voyages is a travel agency registered with the registry of travel agents N°: 092 10 00 22. It then provides repatriation basis assistance. You also have the possibility to opt for an additional insurance cancellation baggage, to purchase in addition to your base contract (information sent by Larivière Voyages at the time of the quote).
I live outside France, Belgium or Switzerland and look after my flight myself. Is my insurance enough to travel to the US?
You have to find out. Most personal insurance companies cover the risk and companies such as International Mutual Assistance can guarantee coverage of medical expenses and repatriation. We require written proof that you have this personal repatriation assistance. Take the time to check this with your broker – the United States is a popular destination for the European and they are used to it. Hospitalizations in the United States are expensive, and better be safe than sorry. In the absence of written evidence, we will not be able to take you in the group.
Should I have an insurance to rent the bike?
The liability insurance of the bike is included in the price of the rental. You will fill out a form that will allow you to be insured by our company in the United States (MBA Insurance) for the duration of the trip. This insurance covers damages caused to third parties, but also to the bike. The deposit amounts to $1000, refunded if there is no damage. Motorcycle insurance does not cover your own costs of hospitalization, or care facilities. Your repatriation insurance – included in the pack Larivière Voyages and mandatory for others – can prevent prolonged hospitalization in the USA. You can pair this coverage with the option SPOT to cover any costs of transport by ambulance/helicopter.
Are the companies XR Adventures USA and Larivière Voyages responsible in case of accident?
During registration, we make you sign a waiver disclaiming all liability for damage you may cause to yourself and to others, by driving your motorcycle or not, and this for the total length of the journey. In this document you will waive any legal action against the company who organized the trip. This is a mandatory legal document in the USA. Long story short, we will not be held responsible for any problems caused by riders travelling with us. Each one has to be responsible!