From North to South, a unique off-road trip across USA
Only 2 groups of 6 riders will have the opportunity to ride with us in 2018:
Take your chance, fill the application today and be part of the journey!
The adventure of your life is at your fingertips!
Raid off-road Continental Divide 2018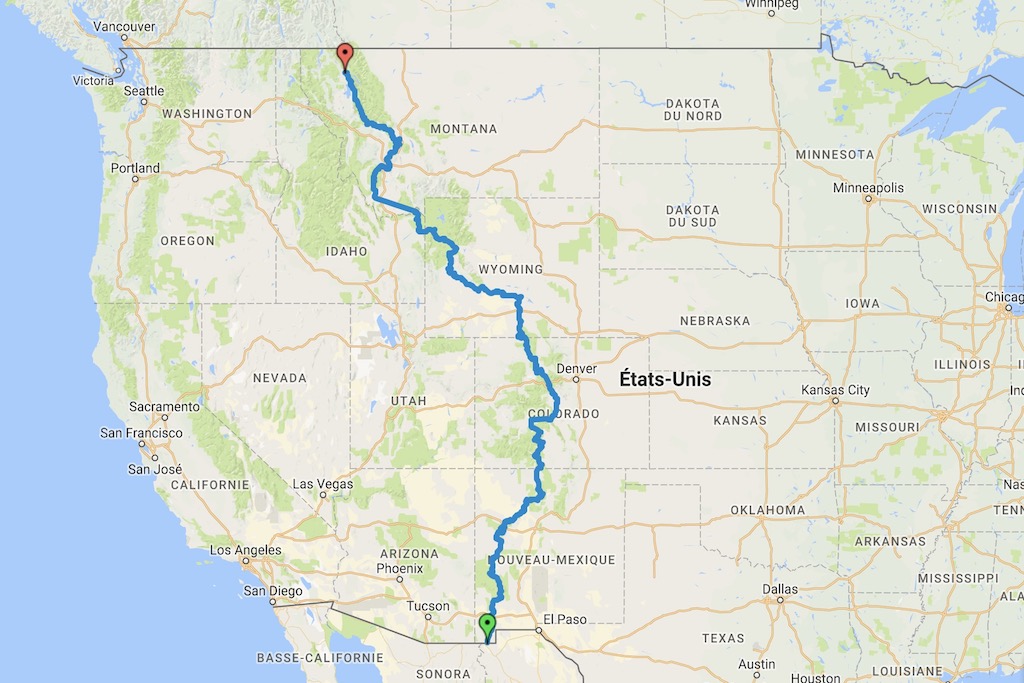 From Mexico to Canada
This crossing of the whole USA on dirt-bikes starts from New-Mexico, goes through Colorado, Idaho, Wyoming and ends in Montana. The course follows the legendary Continental Divide on 4 400 km, through the wild territories of the Far West. It is a unique off road adventure! The tour will offer an average of 350 km and 10 hours of riding per day.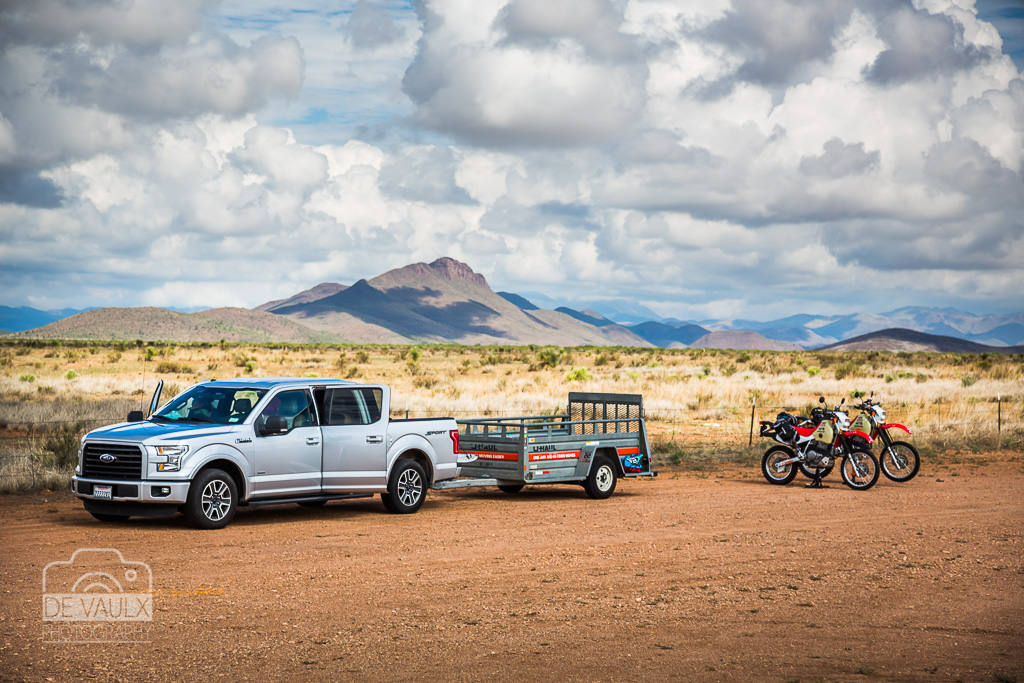 All inclusive
Upon your arrival at the Airport (Tucson, AZ, or Columbia Falls, MO), you meet with other riders, recover your XR650L and load your stuff in the truck for assistance. You're ready to start a 12 day adventure where everything is taken care of : Gasoline, oil, accommodation and food. You just have to open the throttle and enjoy the ride!
80% off-road
The course will run on 70% of easy trails with good dirt or gravel. Long straight lines or miles of countless corners, the ambiance will remind you the Rally races ! You can count on 10% of single tracks with enough climbs, river crossings, mud and rocks to challenge yourself. Finally, the few 20% of the time on pavement, will be welcome to rest...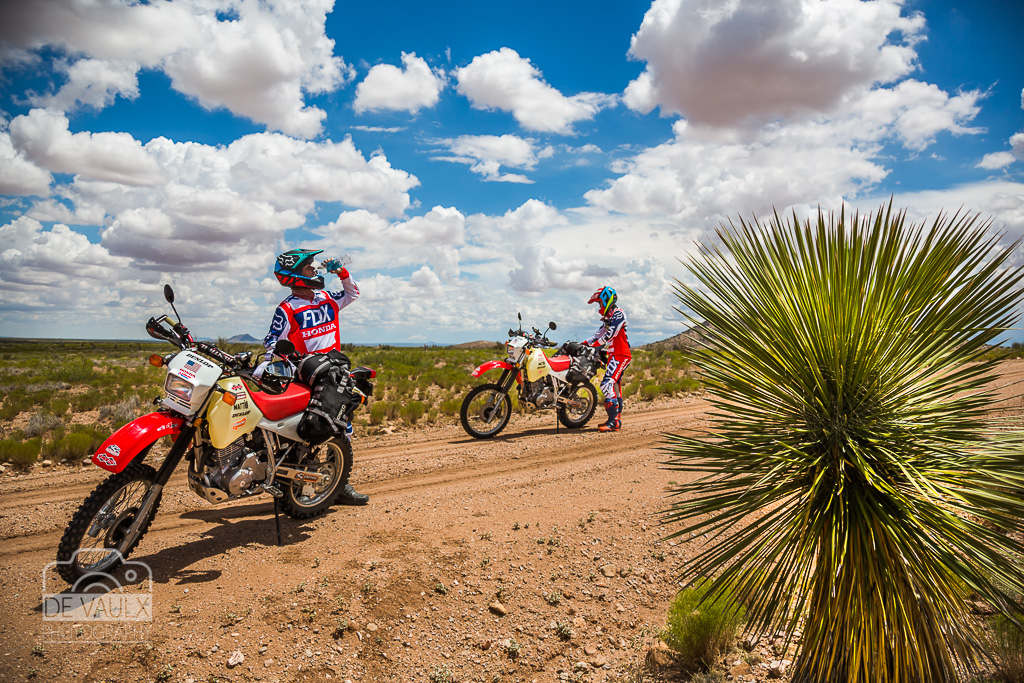 8 to 10 hours of riding per day
Crossing the USA from North to South is an adventure, not a race. Every day, the goal is to finish the stage safe. A good physical condition is a must, as well as basic skills in off-road riding. No need to be a pro, but the conditions can sometimes be difficult. Last, a strong mental will be imperative to confront the long days of riding and the unpredictable weather...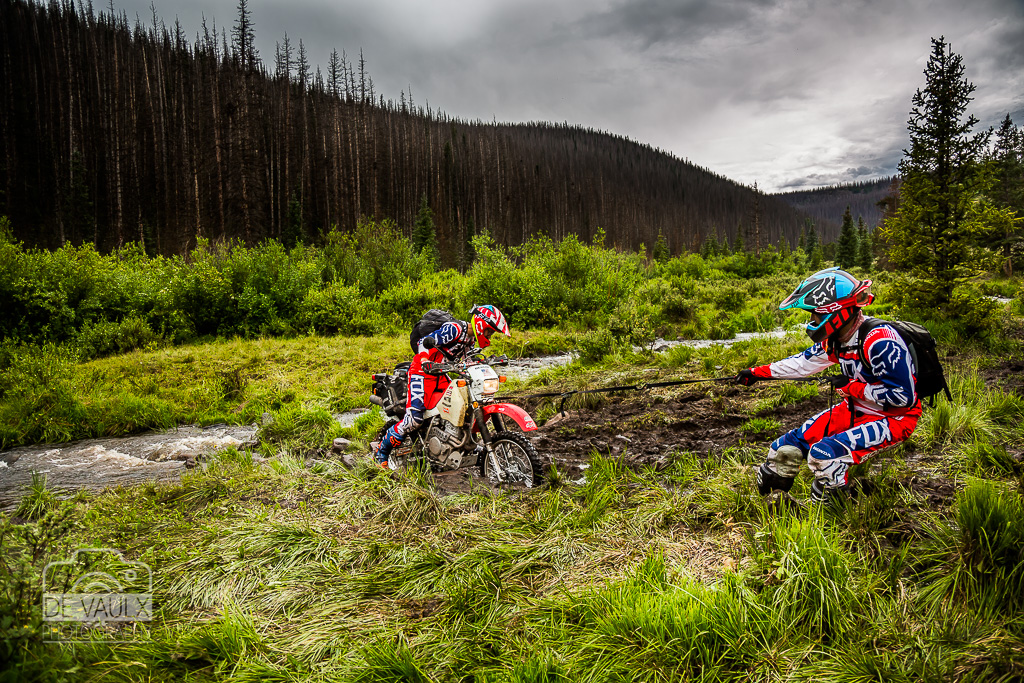 Collective adventure
When the weather becomes difficult, mutual assistance is paramount. Each adventure is individual, but success is often collective! This is why we are asking drivers to be honest in their responses regarding their riding skills and experience. This allows us to adapt the trip to your real level. Do not forget that, on the spot, there is no turning back!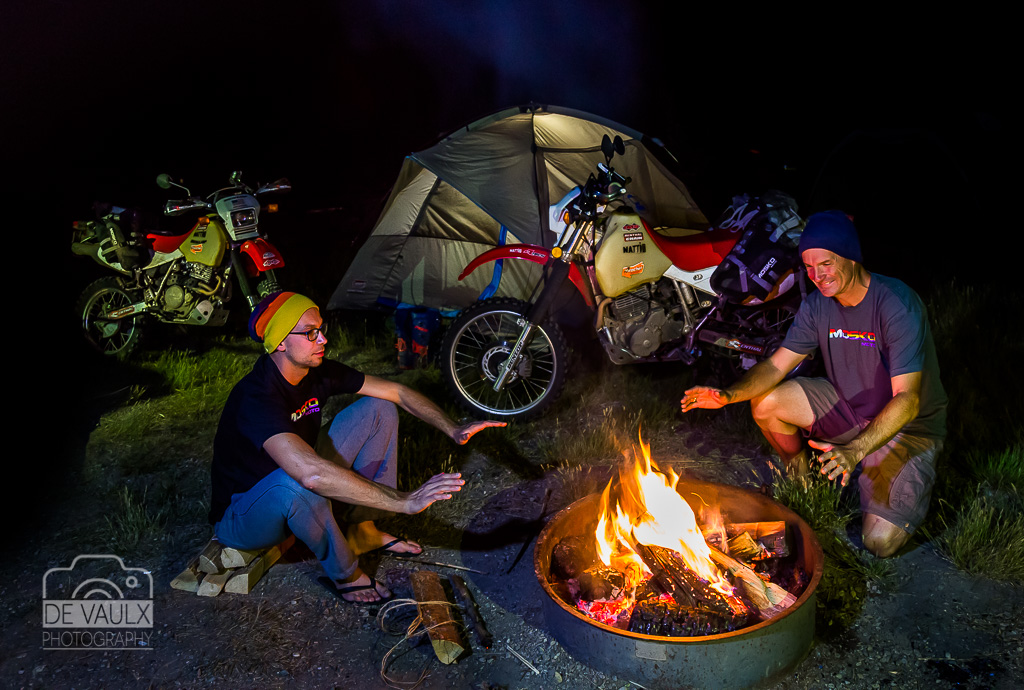 Camping and motels
Depending of the weather conditions, we will camp for about half of the nights. The tents and the personnal bags will be carried by the pick-up truck. Between rivers and solar showers, there will always be enough water for a shower. Beside these basic campgrounds, our nights in motels will allow us to be more comfortableand to eat in restaurants.
A trip larger than Europe!
4,400km in the open spaces, plaines, passes to 4 000 meters, all within 12 days of riding... It's the ultimate raid!
Questions and answers: motorcycle, stages, insurance, GPS...
Your questions sorted by themes: click on the images to learn more!
Assistance
Accompanying riders and pick-up
Escort riders are not guides, but they will have tools, satellite phones, and are already familiar with the ride. You can follow them or ride on your side, it's up to you! For more comfort, the pick-up truck carries your luggages. You're like a pro rider with the help of our crew!
Autonomy with GPS
All the track to your fingertips
Either with your own device or our optional GPS, you'll be provided the track for the entire trip, allowing you to ride with the group or follow the trail at your own pace. Ideal for guys wanting to ride together or those taking pictures!
The 12 stages
12 days detailed
The trip includes 12 days on the bike, plus two days of liaison between the airport and points of departure and arrival. The average mileage is around 200 miles (320 km) a day, with a maximum of 270 miles (430 km). On average, the days are 10 hours long...
Enter in the USA
Customs, plane...
Travelling to the USA involves a long transatlantic flight and usually one or two stops. But before, the traveler must complete certain formalities, such as requesting an ESTA. Not a big deal, but we explain it on the FAQ...
Rider equipment
Take only the essential
With changing weather and long hours on the bike, you must go with the right equipment, without taking the unnecessary... You shall be able to withstand the cold, the rain, but also to ride under a blazing sun!
Repatriation insurance
Keep it covered!
It's not a race, but even if you ride safely, trouble can happen. With high fees for search, rescue and health care in the USA, you better want to plan! We provide reliability insurance for the rental motorcycle, but you really need a repatriation insurance (included if you're traveling with Larivière Voyages). You'll need to provide a certificate to validate your application.
SPOT Option
Stay in touch with your loved ones via satellite
In the Wild West, the smartphone are often out of reach as there's just no network. A GPS tracker can send your location in real time with small messages to reassure your loved ones. More important, the S.O.S. button (search and rescue, insurance included) can save your life is the worst happened!
Honda XR650L
Queen of the desert
Designed to win the Baja desert races, the mythical XR650L is particularly well suited to long-distance raids. We prepare your bike with many special pieces to make it even easier and more comfortable! You'll enjoy the comfy seat and the forgiving suspensions in the technical sections. This is definitively the best bike for this trip.
Send your application for the adventure of a lifetime!
We will do 2 raids in 2018, each with a group of 6 riders. Don't miss your chance, apply now!
Why do I need to apply?
This self-guided trip with assistance is for amateur riders, true fans of rally-raids in love of the USA and who want to live a real adventure in a still wild and unspoiled landscape.
This is the case of many riders in Europe, but riding safely in these huge open spaces requires to allow only small teams of 8 riders maximum. In order to form homogeneous groups, we therefore need to know better each candidate.
You have to answer questions honestly to help us put together the best teams of riders. Technical skills, mental state, physical condition, personal expectations, tell us everything! The 6 selected riders will be personally contacted by telephone. As for the others, we don't let them down and will do anything to incorporate them into future editions.
Complete your application today and come live your dream of endless riding in the wild West!
Want to know more? See the FAQ or ask your questions via the contact page !
How I do?
Explains your motorcycle experience
Tell us about your expectations
Return the form by e-mail
Start to prepare yourself for the journey!
As soon as your application is approved, you will receive additional information for payment. We will begin to set up the bike for you and help you in the preparation of the trip.
TARIFS traversées "Continental Divide" USA 2018
Tarifs été 2018 : Sud-Nord du 9 au 22 juillet et Nord-Sud du 27 juillet au 9 août.
Residents Trip to France-Belgium-Switzerland
Flight A / R France-USA optional + 1500 €
Trip offered by Larivière Voyages
Honda XR650L + gas + oil
Motel + camping all inclusive
Vehicle for transport of luggage
Rental motorcycle insurance included
Repatriation insurance included
Trip for residents outside France-Belgium-Switzerland
Flight to USA not proposed
Flight to book independently
Honda XR650L + gas + oil
Motel + camping all inclusive
Vehicle for transport of luggage
Rental motorcycle insurance included
Repatriation insurance not included
GPS Option course, food and handlebar bracket
Garmin waterproof 78s
integrated complete course
Preset
Mounted on the handlebars
Load 12V battery
Spot Satellite Option trace messages and S.O.S
1 Spot Gen3 Satellite
Send your real-time track
Send pre-programmed messages
Send Google Maps link with position
SOS button for emergency rescue
CONTACT
A question? Fill out the form and do not forget your details if you want us to come back to you!